Welcome to our new website!
Look at our best offers. Sunita - Hewing | Real Estate - Nekretnine
Below are shown randomly selected property, if you want a full list of properties click on the menu "Rent" or "Offer".
OTHER APARTMENTS FOR RENT>>
Overview of the resorts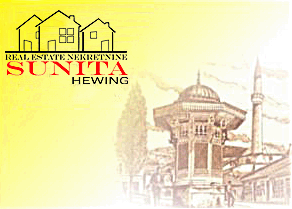 About Sunita Hewing
Sunita Hewing real estate has been serving international community in Sarajevo since 1999.
Sunita Hewing, agencija za promet nekretninama surađuje sa medžunarodnom zajednicom u Sarajevu od 1999. godine.
Contact Us
Address: Braće Kršo 36 Sarajevo, BiH
Agent: Sunita +38761145664
Owner: Edin
sunita.hewing@live.com