Welcome to our new website!
Look at our best offers. Sunita - Hewing | Real Estate - Nekretnine
ID: 464, Sarajevo, Old Town, Alifakovac
A brand new office building for rent!!!

Location: Old Town, close to the renovated City Hall.

Total area of ​​1000 square meters on 4 floors plus garage space. The building is finished with external works, carried out all the utilities (electricity, gas, water, etc.) and plans to install security and technological support .Building is primarily intended for the building of the Embassy and Consular missions and can be retrofitted as the headquarters of the international Corporate Bank or some larger organizations.

Each floor has a similar internal layout with possibilities for changes by needs of future tenants. This also applies to furnishing (offices).On request you can see plan of the floors and entire building.

On the ground floor there is a garage for 10-15 cars depending on their size, and at the front of the building parking for at least 5 more cars.

At the main entrance to the reception where the main entrance to the building with open plan layout of cc 300 square meters space,exit to other side of building that provides beautiful view at local area.

There are 3 more similar floors(last one can be used as apartment for Ambassador).

Building has elevaror.

Contact agent:

Sunita Gogić-Husejnović

Phone:

0038761145664

E-Mail: sunita.hewing@live.com

Additional Info

Price:

Contact Us

Size:

1000 m2

Built:

2013

Building profile:

Newbuilding

Elevator:

Yes

Furnished:

Yes

Unfurnished:

Yes

Furnished on request:

Yes

Parking:

Yes

Garage:

Yes

Heating central gas individual system:

Yes

Heating primary plus back up system:

Yes

Balcony:

Yes

Terrace:

Yes

Garden:

Yes

Alarm:

Yes

Video surveillance:

Yes

Security door:

Yes

Intercom:

Yes

Cable TV:

Yes

Internet:

Yes

Air Condition:

Yes

Telephone:

Yes

Basement:

Yes

Pantry:

Yes
Overview of the resorts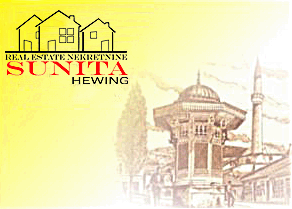 About Sunita Hewing
Sunita Hewing real estate has been serving international community in Sarajevo since 1999.
Sunita Hewing, agencija za promet nekretninama surađuje sa medžunarodnom zajednicom u Sarajevu od 1999. godine.
Contact Us
Address: Braće Kršo 36 Sarajevo, BiH
Agent: Sunita +38761145664
Owner: Edin
sunita.hewing@live.com