Welcome to our new website!
Look at our best offers. Sunita - Hewing | Real Estate - Nekretnine
ID: 578, Sarajevo, Center, Bjelave
Last pictures are of furnished place as is now!

This apartment is located in Bjelave area.Very nice and quiet but yet central location,close to Austrian,French and Italian Embassy.Apartment is located in new modern and secured building.

Apartment is new,modern,spacious and bright.

It comprises entrance hall,big open living room(balcony)with dining room(second balcony) and kitchen.Also 2 bedrooms,1 toilet,1 bathroom,,wardrobe room . Apartment is momentarily unfurnished but can be furnished in 2 days time(pictures shows both)

Apartment offers garage.

Contact agent:

Sunita Gogić-Husejnović

Phone:

0038761145664

E-Mail: sunita.hewing@live.com

Additional Info

Price:

1200.00 KM

Size:

100 m2

Building profile:

Newbuilding

Bedrooms:

2

Baths/WC:

2

Floor:

2

Furnished:

Yes

Unfurnished:

Yes

Furnished on request:

Yes

Garage:

Yes

Heating central gas individual system:

Yes

Heating primary plus back up system:

Yes

Balcony:

Yes

Alarm:

Yes

Video surveillance:

Yes

Security door:

Yes

Intercom:

Yes

Cable TV:

Yes

Internet:

Yes

Air Condition:

Yes

Telephone:

Yes

Basement:

Yes

Pantry:

Yes
Overview of the resorts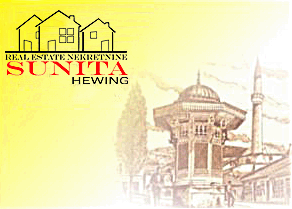 About Sunita Hewing
Sunita Hewing real estate has been serving international community in Sarajevo since 1999.
Sunita Hewing, agencija za promet nekretninama surađuje sa medžunarodnom zajednicom u Sarajevu od 1999. godine.
Contact Us
Address: Braće Kršo 36 Sarajevo, BiH
Agent: Sunita +38761145664
Owner: Edin
sunita.hewing@live.com