Welcome to our new website!
Look at our best offers. Sunita - Hewing | Real Estate - Nekretnine
ID: 616, Sarajevo, Rajlovac
This business and manufacturing facility is located near Stup Intersection at the spot where is intersection of two main traffic roads of Bosnia and Herzegovina from north to south and east to west. Plot of the building is next to the future urban expressway whose construction started. The building can be seen in its entirety on the right side from the direction of Rajlovac moving towards Stup. The building was built on part of the Industrial Zone of Stup, and also there are: WISA, Domavija, Drvodom,Drvosjeca/ Lumberjack and several other businesses.

This business and manufacturing facility is for rent and comprises 2895 meters square area build on on a plot of 4,000 meters square. The building has three floors of dimensions 25 x 50 m or 1,250 meters square each. The primary purpose of the first and second floors of a storage area height 7.1 his ground and 3.47 m on the first floor, while the second floor load capacity of 500 kg / meters square. The ground floor has an area of 1150 meters square. The first floor surface of 576 meters square and the second floor surface of 1,167 meters square (open desk system-rearrangement. There are two lifts: freight (dimensions 250 x 300 cm) and central. Central heating with own boiler. Underfloor heating on the ground floor in the business district and warehouse are also grije.Rolo door storage space with a height of 6.75 meters square, which provides for entry of vehicles into the building. The floors on the floors are: ferobetonska AB plate on the storage, composite granite in the exhibition area, ground floor and laminate in beech decor on the part of another floors.

In case of need, the possibility of installing ventilation and air conditioning

Contact agent:

Sunita Gogić-Husejnović

Phone:

0038761145664

E-Mail: sunita.hewing@live.com

Additional Info

Price:

Contact Us

Size:

2895 m2

Outer Space:

4000 m2

Building profile:

Newbuilding

Elevator:

Yes

Unfurnished:

Yes

Furnished on request:

Yes

Parking:

Yes

Garage:

Yes

Heating central gas individual system:

Yes

Alarm:

Yes

Video surveillance:

Yes

Security door:

Yes

Intercom:

Yes

Internet:

Yes

Telephone:

Yes

Basement:

Yes
Overview of the resorts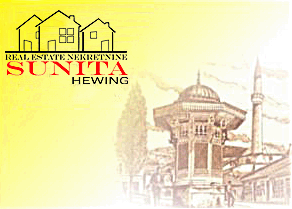 About Sunita Hewing
Sunita Hewing real estate has been serving international community in Sarajevo since 1999.
Sunita Hewing, agencija za promet nekretninama surađuje sa medžunarodnom zajednicom u Sarajevu od 1999. godine.
Contact Us
Address: Braće Kršo 36 Sarajevo, BiH
Agent: Sunita +38761145664
Owner: Edin
sunita.hewing@live.com