Welcome to our new website!
Look at our best offers. Sunita - Hewing | Real Estate - Nekretnine
ID: 749, Sarajevo, Center, Skenderija
Skenderija area, new ,modern building next to the building of EU Delegation , German and Turkish embassy. Modern, two bedroom apartment, measuring 113 square meters, situated in the newly constructed building, in Sarajevo downtown .

The apartment comprises: living room , dining room and kitchen, two bedrooms(main with own with hydro-massage bathtub), second bathroom with a shower, and entrance hallway. Apartment offers storage room also.

Garage place for one car.

Contact agent:

Sunita Gogic-Husejnovic

Phone:

+38761145664

E-Mail: sunita.hewing@live.com

Additional Info

Price:

Contact Us

Size:

113 m2

Building profile:

Newbuilding

Bedrooms:

2

Baths/WC:

2

Elevator:

Yes

Furnished:

Yes

Furnished on request:

Yes

Garage:

Yes

Heating central gas individual system:

Yes

Heating primary plus back up system:

Yes

Alarm:

Yes

Video surveillance:

Yes

Security door:

Yes

Intercom:

Yes

Cable TV:

Yes

Internet:

Yes

Air Condition:

Yes

Telephone:

Yes

Basement:

Yes

Pantry:

Yes
Overview of the resorts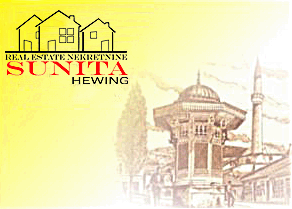 About Sunita Hewing
Sunita Hewing real estate has been serving international community in Sarajevo since 1999.
Sunita Hewing, agencija za promet nekretninama surađuje sa medžunarodnom zajednicom u Sarajevu od 1999. godine.
Contact Us
Address: Braće Kršo 36 Sarajevo, BiH
Agent: Sunita +38761145664
Owner: Edin
sunita.hewing@live.com