Welcome to our new website!
Look at our best offers. Sunita - Hewing | Real Estate - Nekretnine
ID: 763, Sarajevo, Center
Located in the very center of Sarajevo, everything you can possibly need in walking range - organic green market, sushi, vegan and other restaurants, organic tea shop, galleries, concert venues and clubs, museums, parks and of course - the old town Bascarsija.

Private parking space included!

This 50 sqm consist of a living room, 1 bedroom, kitchen and bathroom. The garden is perfect for everything - just relaxing, doing yoga,

Contact agent:

Sunita Gogic-Husejnovic

Phone:

+38761145664

E-Mail: sunita.hewing@live.com

Additional Info

Price:

850.00 KM

Size:

50 m2

Building profile:

Newbuilding

Bedrooms:

1

Baths/WC:

1

Floor:

1

Furnished:

Yes

Parking:

Yes

Garage:

Yes

Heating central gas individual system:

Yes

Heating primary plus back up system:

Yes

Garden:

Yes

Security door:

Yes

Intercom:

Yes

Cable TV:

Yes

Internet:

Yes
Overview of the resorts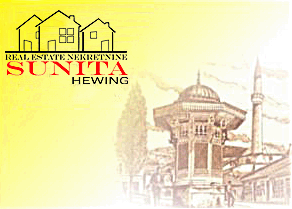 About Sunita Hewing
Sunita Hewing real estate has been serving international community in Sarajevo since 1999.
Sunita Hewing, agencija za promet nekretninama surađuje sa medžunarodnom zajednicom u Sarajevu od 1999. godine.
Contact Us
Address: Braće Kršo 36 Sarajevo, BiH
Agent: Sunita +38761145664
Owner: Edin
sunita.hewing@live.com