Welcome to our new website!
Look at our best offers. Sunita - Hewing | Real Estate - Nekretnine
ID: 814, Sarajevo, Center
The apartment is very well designed, adapted and furnished = new . The apartment consists of a bathroom, a bedroom, a living room, a kitchen with dining area and a hallway. In adaptation, the apartment is demolished, the layout has been changed according to the design, the estuary, most expensive floorboards, electric and plumbing, security entrance door, modern,teak bathroom, the best kitchen appliances, the finest class interior joinery, sanitary etc.

Currently apartment is furnished-most pictures are from before

Heating is a combination of the finest Norwegian convectors (nobo) and AC unites , which works perfectly, because insulation was also under renovation. Gas appliances are in the building so it can be installed in apartment easily,if you require.

The apartment is located on the 4th floor of a building with an inbuilt elevator, which is not in function, but depending on the agreed price and the lease time period,can be capacitate within 90 days. What is unique about this apartment is that apart from peace and quiet in the very center of town, you have a flat roof that can be used for entertainment (barbecue, sunbathing, swimming (flooded water) ...) - 100 m2, instead of balcony.

Possibility for parking if needed.

Contact agent:

Sunita Gogic-Husejnovic

Phone:

+38761145664

E-Mail: sunita.hewing@live.com

Additional Info

Price:

1500.00 KM

Size:

64 m2

Outer Space:

100 m2

Building profile:

Renovated

Bedrooms:

1

Baths/WC:

1

Floor:

4

Furnished:

Yes

Parking:

Yes

Heating primary plus back up system:

Yes

Terrace:

Yes

Alarm:

Yes

Security door:

Yes

Intercom:

Yes

Cable TV:

Yes

Internet:

Yes

Air Condition:

Yes

Telephone:

Yes
Overview of the resorts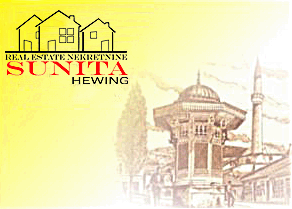 About Sunita Hewing
Sunita Hewing real estate has been serving international community in Sarajevo since 1999.
Sunita Hewing, agencija za promet nekretninama surađuje sa medžunarodnom zajednicom u Sarajevu od 1999. godine.
Contact Us
Address: Braće Kršo 36 Sarajevo, BiH
Agent: Sunita +38761145664
Owner: Edin
sunita.hewing@live.com