Welcome to our new website!
Look at our best offers. Sunita - Hewing | Real Estate - Nekretnine
ID: 927, Sarajevo, Kovacici
New apartment building

New apartment

Beautiful view

Big roof terrace

Modern, economical and eco-friendly heating system - heating pump + solar panels

Parking

Contact agent: Phone: E-Mail:

Additional Info

Price:

0.00 KM

Size:

0 m2

Outer Space:

0 m2

Built:

0000

Building profile:

Newbuilding

Bedrooms:

1

Baths/WC:

1
Overview of the resorts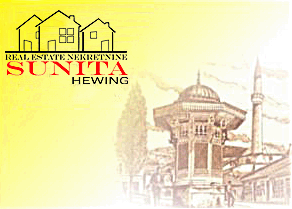 About Sunita Hewing
Sunita Hewing real estate has been serving international community in Sarajevo since 1999.
Sunita Hewing, agencija za promet nekretninama surađuje sa medžunarodnom zajednicom u Sarajevu od 1999. godine.
Contact Us
Address: Braće Kršo 36 Sarajevo, BiH
Agent: Sunita +38761145664
Owner: Edin
sunita.hewing@live.com